By Michael Jenkins

For many of us, it's one of the best times of the year—tomato season! Fresh garden tomatoes are one of life's great joys, and ripe tomatoes are a versatile and much-loved ingredient in cuisines around the world. However, if you have tomato plants you inevitably end up with some green tomatoes that have come off of the plant and need to be used. You can ripen tomatoes indoors, of course—but green tomatoes are a fantastic ingredient in their own right and can be used to make some wonderful dishes. So, what can you cook with green tomatoes? Let's dig in and look at two of our favorite green tomato recipes!
(A quick note: here, we're talking about "green" as in "unripe". There are varieties of tomatoes that are green when ripe, but those are prepared differently!)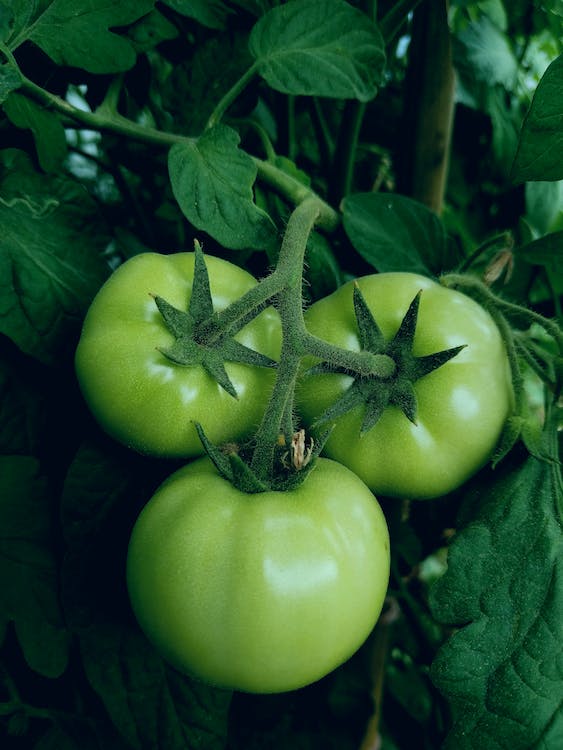 Fried Green Tomatoes
A classic dish from the American South, fried green tomatoes capture the taste of summer like few other  foods do. They're a versatile dish as well—you can serve them as an appetizer, a snack, or a main course. They pair well with a wide variety of dips, sauces, and cheeses, so don't be afraid to experiment and make this recipe your own!
1 egg, lightly beaten
½ cup all-purpose flour total, divided into ¼ cup parts
½ cup buttermilk
½ cup cornmeal
1 teaspoon salt
½ teaspoon pepper
3 green tomatoes, sliced roughly 1/3 of an inch thick. Use largish green tomatoes that are unripe and solid to the touch
Vegetable oil
First, get your ingredients together. It's easiest to have your sliced green tomatoes ready on a plate. Combine the buttermilk and egg and mix thoroughly. Place ¼ cup flour in a shallow bowl. In a separate shallow bowl, combine the remaining ¼ cup flour, cornmeal, salt, and pepper and mix thoroughly.
Next, we coat our tomatoes! Start by dredging a green tomato slice in the flour, then coat it in the egg/buttermilk mixture before dredging it again in the cornmeal/flour blend. Do this for each slice of green tomato—take your time!
Now it's time to fry some green tomatoes Pour vegetable oil roughly ¼ to ½ inch deep in a cast iron skillet or similar heavy bottomed pan. Heat oil to approximately 375F/190C. Drop coated green tomatoes in batches, making sure not to overcrowd the pan. Cook two minutes on each side or until golden brown. Drain fried green tomatoes on paper towels or a baking rack, sprinkle with salt, and serve as desired!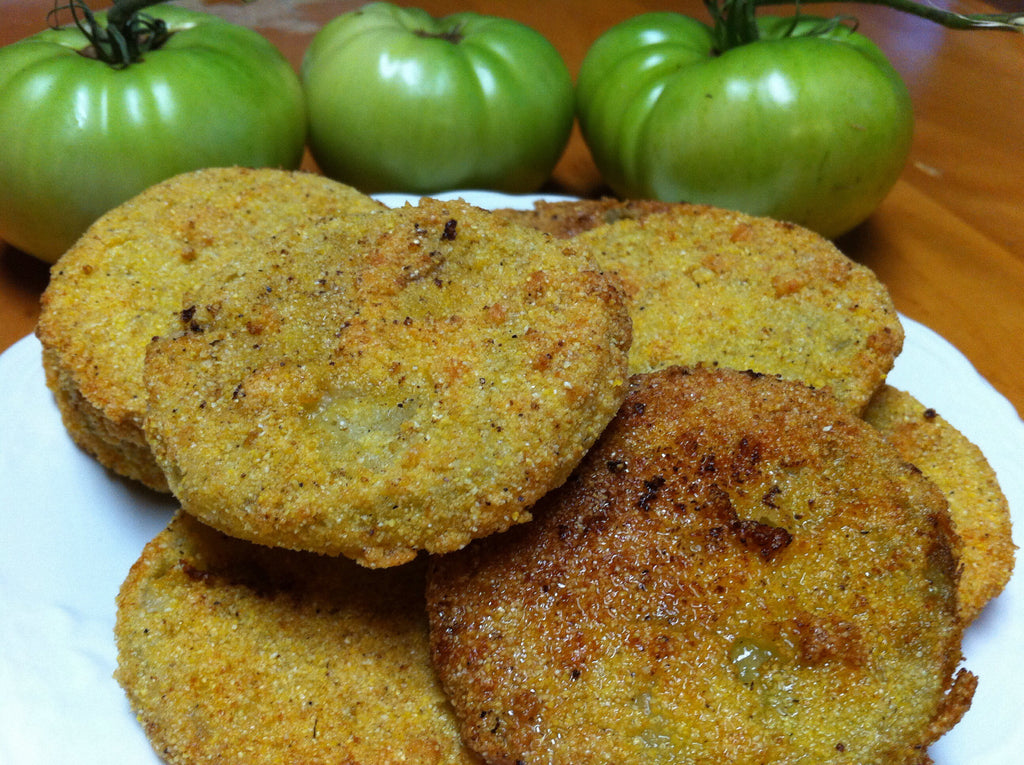 Green Tomato Refrigerator Pickles
Refreshing, zesty, and really easy to make, green tomato refrigerator pickles are a fast and easy pickle that will last for a week or so in the fridge—but don't be surprised if you finish them sooner! This is another recipe that can be tailored to your tastes by trying different seasonings. The finished product can be used as a snack, a relish or topping, or even as a side dish of its own! If you're not pressure canning or hot water bath canning you can use either canning jars or repurposed heavy glass jars from the kitchen. Just be careful—glass jars can break or split if handled carelessly!
Ingredients
5 pounds green tomatoes (cherry or slicers); we recommend slicing the larger tomatoes to fit the containers and quartering or halving cherry tomatoes
5 cups apple cider vinegar (5% acidity)
5 cups water
1/4 cup salt
1 head of garlic
1-2 onions, sliced
Spice Blend (just a suggestion to get you started, feel free to adjust to your tastes!)
coriander seeds
cumin
caraway
turmeric
mustard seeds
black peppercorns
bay leaf, 1 per jar
celery seeds
red pepper flakes OR dried garden peppers
Start by blending your spices and adding them to your jars—we recommend starting off with one to two teaspoons of spice mix per jar and then adjusting from there.
As with many pickles, this recipes calls for a brine—a mix of salt with water or vinegar to start the pickling process. For this brine, combine salt, apple cider vinegar and water in a non-reactive pot and bring to a light boil. Then add the onions and garlic and cook for three to four minutes before adding the sliced green tomatoes. Stirring consistently, cook until the tomatoes are heated through, which generally takes between three and five minutes. Remove from heat right away and allow to cool a bit.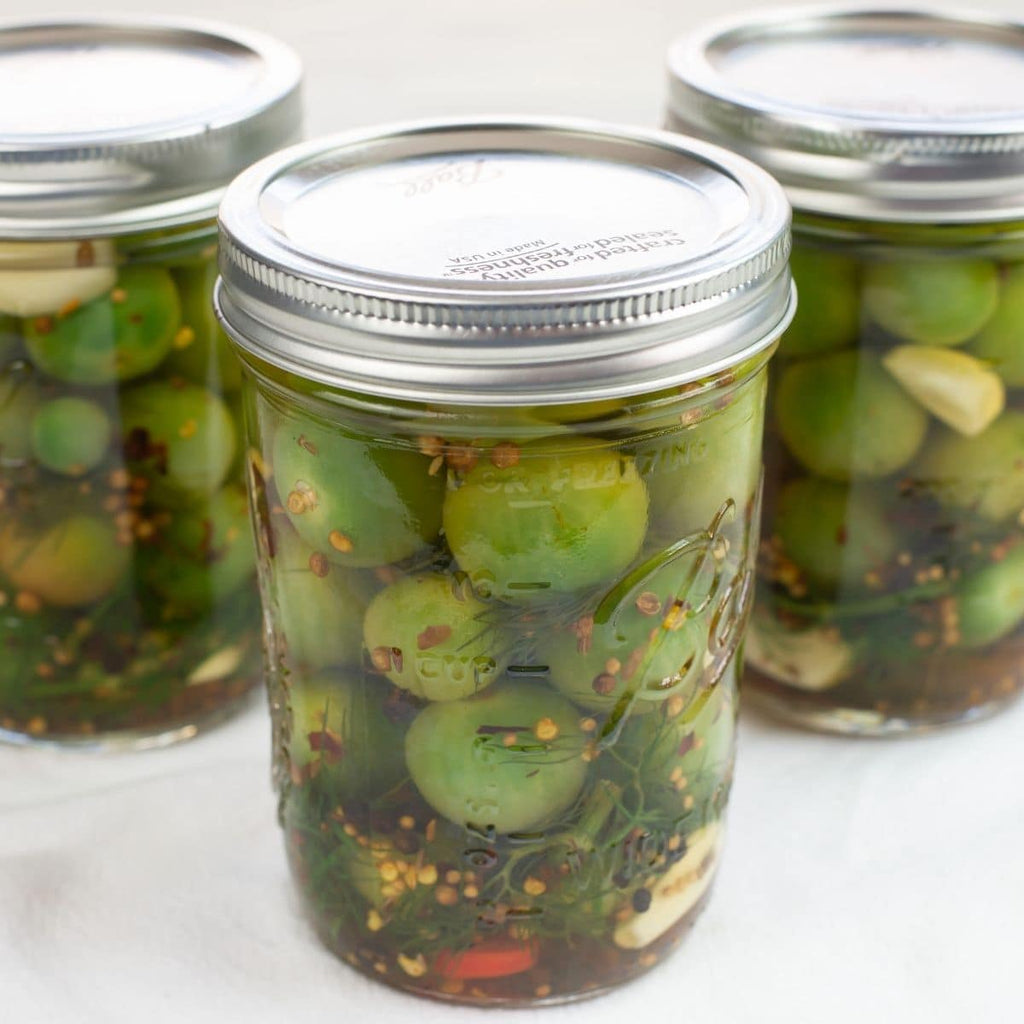 Carefully ladle the tomato mix into the jars with the spices, fill with brine while leaving a ½ or so of head-space between the surface of the mix and the top of the jar, and the put the lids on the jars. Allow to cool to room temperature (which may take several hours) before moving to the fridge. They should last a week or more there.
There are many more possible recipes for green tomatoes—salsas, soups, and stir fries among them. Don't be afraid to experiment with this ingredient, it's a forgiving vegetable and easy to cook with. We'll be sharing more green tomato recipes in a future blog, so stay tuned! And if you have any favorite ways of using green tomatoes in your kitchen, please let us know!
---